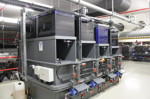 MECER RECYCLING
Closed loop recycling of alkaline and acidic etchants
MECER process Solvent Extraction technique are used around the world for on-site regeneration of alkaline and acidic etchant used in the production of printed wiring boards.
Instead of disposing large volumes of spent etchant, the integration of a MECER system will regenerate the etchant and return it to the etching machine.
The equipment has a short payback period (usually 6-18 months) and helps you increase your profitability.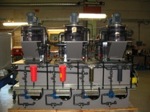 Alkaline MECER process
In the alkaline MECER process, a small amount of etch rate enhancer (additive) and ammonia is added to compensate for drag-out losses from the etching chamber. The water used for rinsing the printed circuit boards would normally be disposed of into an expensive waste water treatment plant, where as with the integration of a MECER system, the excess water can be disposed of as totally environmentally acceptable.

Advantages:
• Short payback time
• 90% reduces rinsewater consumption
• 100% reduced replenisher consumption
• Pure CU-recovery
• Fully automatic
• Low maintenance costs
• Environmentally friendly
• A wide range of sizes

Further information
Download brochure for the Alkaline Mecer process
Download questionnaire for the Alkaline Mecer process
or send an email to us at mailbox@sigma-mecer.com
Acidic MECER process

Advantages:
• Short payback time
• 95% reduced hydrochloric acid comsumption
• Eliminate the need for hydrogen peroxid
• Eliminate the risk of generating chlorine gas
• Pure CU-recovery
• Fully automatic
• Low maintenance costs
• Environmentally friendly
• A wide range of sizes

Further information
Download brochure for the Acidic Mecer process
Download questionnaire for the Acidic Mecer process
or send an email to us at mailbox@sigma-mecer.com